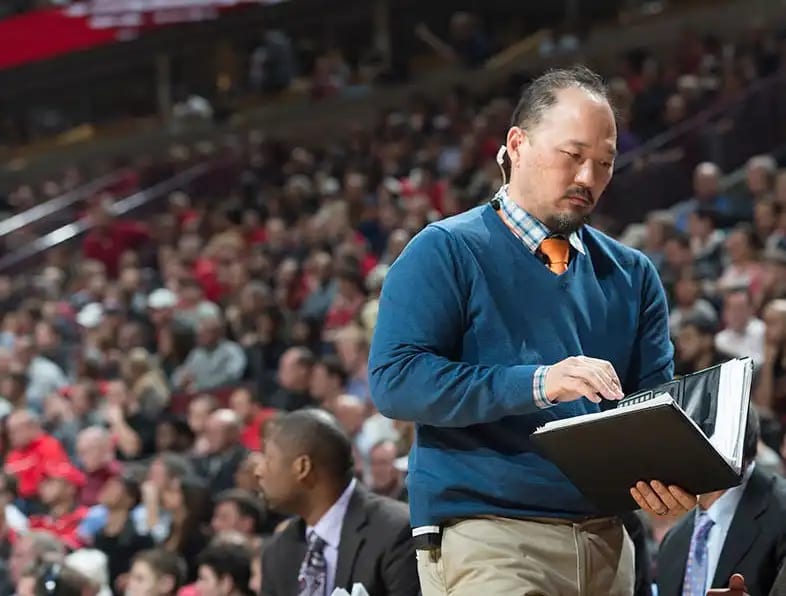 How Flexpower Helped the San Francisco 49ers and Chicago Bulls
Professional athletic trainer Jeff Tanaka talks about seeing firsthand how Flexpower performs on the gridiron and the hardcourt.
The San Francisco 49ers gutting out intense physical punishment over the course of a 16-game NFL season don't, on the surface, appear to have much in common with the Chicago Bulls grinding through the wear and tear of an 82-game NBA season, save for one important thing: Both teams were able to do it successfully season after season thanks to athletic trainer Jeff Tanaka.
The Bay Area native got an early taste of the pro sports life while an undergrad at California Polytechnic State University at San Luis Obispo, when he began assisting the trainers for the then Los Angeles Raiders. While doing his graduate work at San Jose State, Tanaka joined the San Francisco 49ers as an assistant athletic trainer. He would briefly leave the 49ers organization (but would return) to spend his first two years after grad school in the athletic department at the University of California at Berkeley. Through what he calls "the Cal Family Connection," Tanaka would then meet Rasheen Smith and get his first introduction to Flexpower Warm.
"A lot of our players were already familiar with the product," says Tanaka. "And really – like a lot of things that we do in life – it's about building those relationships and building trust.  I'm going back 20 years now with Flexpower. It's become an institution as far as what I like to have in my training rooms. And the buy-in from them has been easy because of how it makes them feel."
New Game, Same Results
After nearly 10 years with the 49ers, Tanaka found himself presented with the opportunity to switch cities…and switch sports. In 2008, he joined the Chicago Bulls as an assistant trainer, then served as head athletic trainer from 2014 until 2020. The game was different, but the results were the same as far as the response to Flexpower among his athletes.
insert video
"They liked, and I still like, that the sensation is long lasting," says Tanaka. "The sensation that there's a depth of penetration. And they were regular users. It just became part of their routine. And that's the best thing you can do is just become part of a person's routine – just like getting up and brushing your teeth."
Tanaka saw how quickly the players adopted Flexpower as more than just temporary pain relief. He noted that players were just as apt to apply some before practice or games as they were post-activity shower before they headed home. "The nice thing about it was it didn't stain, it didn't carry a real bad smell," says Tanaka. "It was mild enough that you could live your life with it and not have it over-power things. You get the sensation benefits without overpowering whoever's in the car with you or your wife or girlfriend or boyfriend or whatever. From a lifestyle standpoint, it was not invasive as far as staining up your clothes or stinking up the person you're trying to have dinner with." Tanaka even experimented with mixing Flexpower Warm into some of the massage lotions, and noted that the players enjoyed the added warming benefits.
"Like I said, they were regular users of it," says Tanaka, noting that having Flexpower around allowed the players to take control of their own self-care. "There was a little bit less of our own manual work to do at times. Players could just apply it themselves on their knees or elbows or shoulders. Guys could be self-sufficient with it, and that was a nice thing. "
Finding What Works
The extreme differences between the gridiron and the hardcourt allowed Tanaka and his team to understand the specific needs of their players, and how having reliable, effective pain relief – that was as non-invasive as possible – was a vital component whether the physical activity in question was compact and intense, or long and ongoing. "The basketball players like to be real streamlined, even with what they're wearing, because they're so in tuned with their bodies," he explains. "So a real bulky brace or even a sleeve sometimes was a non-starter for some of the basketball guys. The ability to tolerate some of the aches and pains was probably a little higher among the football players, but don't get me wrong – the basketball guys play 82 games, it's a six month season. It's no joke!"
The sports medicine community, Tanaka explains, is extremely close knit ("It's like six degrees of Kevin Bacon, you can make connections all over the place"), and while word of mouth and relationships are important, knowing firsthand that something works is vital. No one wants to chase a fad and risk the health and wellbeing of their athletes.
 "The ability to gain the trust of the practitioners goes a long way," says Tanaka. "I'm more the type that will find something and I like to stay with it. We're always looking to stay innovative, but if something's not broken, I don't want to just replace it just because it's been with us for a number of years."
"If anything, that should be a testament to its effectiveness. "
_______
Explore More: