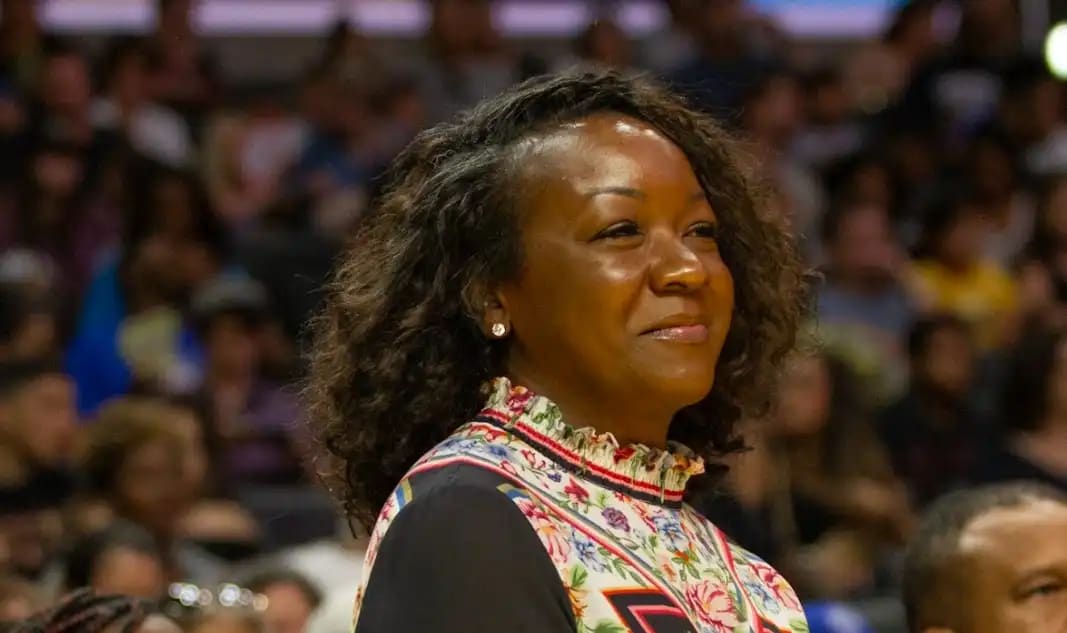 International Women's Day Profile: Courts Corner LA Founder Courtney Watson
Help us celebrate Women's History Month and International's Women's Day with stories of finding purpose, spreading positivity, and feeling good
Flexpower believes that everyone has the right to feel good, and that nothing should prevent anyone from chasing those things that energize them, challenge them, and move them. Throughout the month of March, we're celebrating Women's History Month and International Women's Day through conversations with women from vastly different backgrounds, disciplines, and careers to find out how they chased their own sense of purpose, found their own source of "feel good," and used their positive drive to help and inspire others.
After a few minutes of talking to Courtney Watson, one thing becomes clear: She does not see what she does as a job. She barely even uses the word "career." Time and time again she comes back to a very specific term: "Passion."
It's a passion that has inspired her through over 20 years as one of the top athletic trainers and sports medicine specialists in her field – a period during which Courtney has enjoyed 12 (going on 13) seasons with the WNBA's Los Angeles Sparks; saw her tapped by the legendary Floyd Mayweather to become the first female athletic trainer in boxing; and just recently saw her join USA Basketball as Head Athletic Trainer for the Men's 3-on-3 team in preparation for the Tokyo Olympics. She also just finished her doctorate program, too, "So I'm officially Dr. Courtney."
It's also a passion that started when Courtney was growing up in South Central Los Angeles, pulled between her brother and cousins who inspired her to excel in athletics, and her mother and grandmother (both teachers) who instilled in her a love and respect for education. It just made sense that she'd put the two worlds together, it just took a chance encounter while helping a friend to make it all click into place.
"A high school friend of mine, he was one of the top basketball players in the country, sprained his ankle during a very critical time in the season and I volunteered to take him to get it checked out," Courtney explains. "The place that we went was The West Coast Sports Medicine Foundation in Manhattan Beach. From the first moment I walked in there, I understood the combination of sports and medicine together, and it instantly drew my attention and focus and my excitement. I never looked back."
We had a chance to find out more about Courtney's experience, and how being a pioneer in a male-dominated field inspired her to found Court's Corner LA as a way of inspiring and supporting young women who want to follow her path.
After realizing, in high school, that you wanted to pursue sports medicine, what steps did you take to make it happen?
I went to UC Berkeley. I could have taken a basketball scholarship at another college but Berkeley, at the time, was #1 in the world for this kind of thing and I knew having that opportunity was too good to pass up. I couldn't do something that wasn't my passion.
My early years there I was just trying to plan around my focus. They have a sports medicine apprenticeship program, so I got involved in that – I was one of the only females at the time to be admitted into the program. It was very competitive. I just appreciated the time and the experience and the mentorship that I got from Berkeley and the sports medicine world. It opened me up to some many ideas of how I could grow into having a successful career. It's been nonstop since then.
Like the apprenticeship program, the field is mostly male as well. What kept you motivated?
When I was younger and didn't know as much about the field itself, it was interesting to me that it was so dominated by males because women can do the same thing. We're equally equipped and have the knowledge and have the strength to be able to recognize injuries and emergencies and provide the best physical therapy and rehabilitation. It was mind-boggling to me to see that was what was happening when I started developing in the field. I had some great mentors, but I saw that there was a need for women to get that attention and to be able to understand what it is to be a professional in this field.  
That's why I developed an internship program. I created Courtney's Corner and the Courts Corner LA Sports Medicine Internship. It's similar to what I experienced at Berkeley. I had over 30 interns last summer, and they got hands-on experience, practice time. It's really about providing a service, and I think a lot of it is about giving back. Once you've created your vision and you understand the direction that you're going in, it's kind of like, "OK, this is where I need to be." So I created this internship program for young women who wanted to go into sports medicine at the professional level. It was about me being able to extend a hand to others and teach those that were coming behind me. I had my passions, I had my drives, and I gave back. I think it's always important to give back.
I wanted a chance to give them experience, to learn how to handle themselves professionally. I tell my interns, "What are you going to do when Candace Parker asks you to make an ice bag? Are you going to be able to do it and be as professional as you can?" At the end of the day, that's what you have – your intent, your purpose, and your character. So protect those at all costs, and take time to enjoy yourself and your opportunities.
Speaking of breaking new ground, how did you end up in the boxing world?
I've been around sports my whole life, I grew up with a bunch of male cousins and I have a brother and my family was really into baseball and boxing. In high school I played basketball and volleyball and ran track. My uncle is a very big promoter in boxing, and he introduced us to the sport. As I was still climbing up and working on my education, and I got the opportunity to work with Floyd Mayweather. He just wanted someone to help him take better care of his body. I realized there aren't really any athletic trainers in boxing. I saw massage therapists and physical therapists, but my specific expertise and my experience is what kept me there. Floyd is one of the hardest workers I've ever seen. He used the terms "hard work and dedication" all the time, and he pushed me to always be at my best, too.
What was your big takeaway from that experience?
It was mostly recognizing that your dream can come true. Having the focus and having that intention. Everyone has a different path, and you create your foundation with your faith and persistence. I think for me, it was really just understanding what my path was and what my intentions were and how I could accomplish those. And that came with time, and it comes with having good energy. What you put into yourself is what you will be able to put out, so that's what kept me going. Persistence, knowing that there weren't a lot of women and that I could break that glass ceiling to be an athletic trainer in boxing. The cool thing about sports medicine as a whole is there's constant technology and innovative ways of doing things. It takes someone who really loves it to put that passion behind it.
You help athletes feel good – but how do you recharge and reenergize when you need to?
I love to work out. I love to take care of myself. It's important to take care of ourselves. We're all so busy, and I'm constantly planning what I see for myself in the future – but I also need to celebrate myself now, too. And that means taking care of myself. I practice doing daily meditation, and I work out consistently just to make sure I can give myself the best energy. And just resting. Sometimes it's good to do nothing, too!
______
Read our entire IWD/WHM Series:
Explore More: