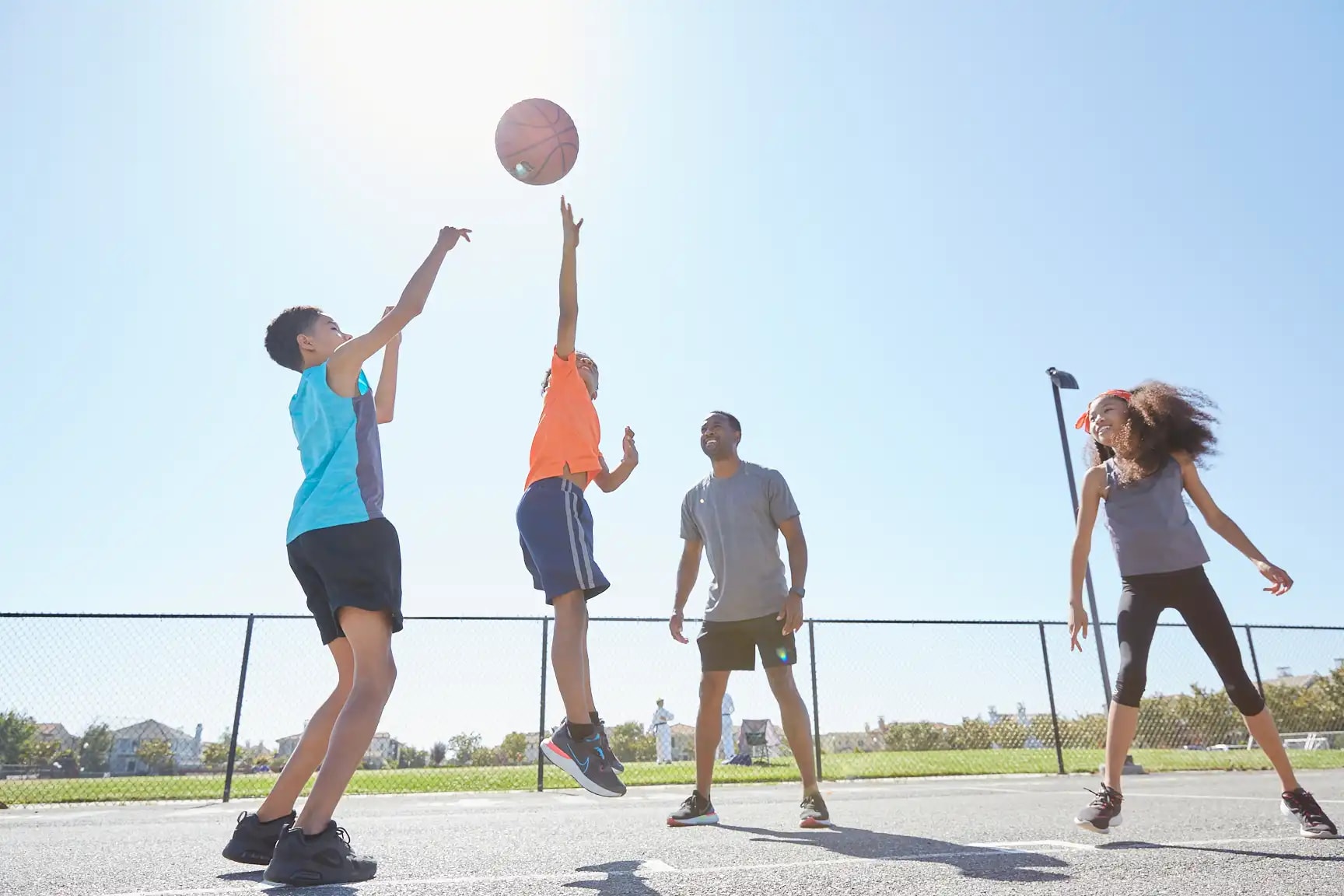 This Is Our Story
"Get Moving. Stay Moving" is more than a motto, it's a belief in everyone's right to feel good. And this is where it all started.
Growing up in South Central Los Angeles, "feeling good" wasn't necessarily a daily reality for our founder, Rasheen Smith. He found escape and welcome distraction from his often difficult home life in sports – keeping himself busy playing handball on the playground hours before classes started so he could be first in line for school-provided free breakfast. While attending UC Berkeley as an economics major, Rasheen tried out for – and made – the Cal Men's basketball team. "I couldn't commit to playing, though, because I already had a very busy student life juggling three jobs and classes, in addition to supporting family back home. I also knew basketball wasn't my future."
Rasheen was wrong, in a way. Basketball would be instrumental in his future, just not in any way he anticipated. The friendships he developed with the team showed him firsthand the rigors of an athlete's life, and introduced him to the ineffective and potentially harmful treatments they had to make do with in an effort to reduce pain. With plenty of pills and heavily-scented pain relief creams at their disposal, these athletes needed a new way to ease their pain. After graduation, Rasheen dedicated himself to finding it. He didn't want to create something that athletes only reached for in times of need, but a product that could be a part of their daily routine, whether it was game day or not. Beyond that, he also saw the potential to reach a lot more people beyond the gym. 
"For me, everyone's an athlete in some way," he says. "We are all active in our daily lives and I started hearing all these amazing stories from people saying Flexpower was helping and supporting their everyday activities such as jogging, gardening and getting out of bed on those cold mornings."
And Flexpower was born. 
When Rasheen joined forces with Heather Vandenberghe, herself a California native, the potential behind Flexpower's inclusive, "all activities for all people" mission became clear. The new CEO – a luxury and retail marketing veteran and public safety advocate – drew from personal experience to evolve and expand what would become key themes for the brand.
"I first tried Flexpower after leaving my demanding CMO job, when I threw my back out and a friend gave it to me," she says.  "After weeks of trying painkillers and other topicals, Flexpower was the first product that worked to ease my pain long enough to get me out of bed and get on with my day."
It became clear to Heather that Flexpower's future was in more than just pain relief for athletes. "It didn't smell, so I could wear it and reapply as needed all day," she says. "Once my injury healed, I had the chance to meet Rasheen and I begged him to bring Flexpower to a larger market beyond pro athletes.  Once you've experienced and recovered from debilitating pain like that, you want to share the solution with everyone, and I wanted to be a part of helping others feel good."
When you feel good, it radiates into everything you do, and everything around you. Their shared California roots inspired Rasheen and Heather to focus Flexpower on every form of positive movement.
"Growing up in Los Angeles, I have always embraced the optimism and energy of California living, and a sense of purpose," says Heather. "Rasheen and I share this ethos, and have a shared vision of what a California-based company can and should be.  Our goal is to help everyone feel good, every day, no matter who or where you are.  With this in mind we are now on a mission to create a range of products designed to help you feel good, while adhering to our corporate standards of sustainability and locally produced products and packaging to support our local economy."