Inside Our Anne Sisteron Bath Salt Collaboration
The luxury jewelry designer called her first Flexpower bath salt experience "life-changing," so we worked with her to make one of her own.
When you think about your personal style, it's  more than just what you wear. It's how you feel,  and how you take that feeling with you into all of your passions and pursuits. To this point, a  collaboration between luxury jewelry designer Anne Sisteron and health and wellness brand Flexpower just feels…right.  
Flexpower and Anne Sisteron Luxury are  proud to announce a one-of-a-kind sensory  experience that reflects both brands' dedication to distinct, unique products created with conscientious sustainability and community support in mind. Combining the all-natural,  full-body restorative care of Flexpower Bath Salts with a brand new exclusive scent of  sandalwood and lavender, the Anne Sisteron Edition Bath Salt is unlike anything you've  experienced before.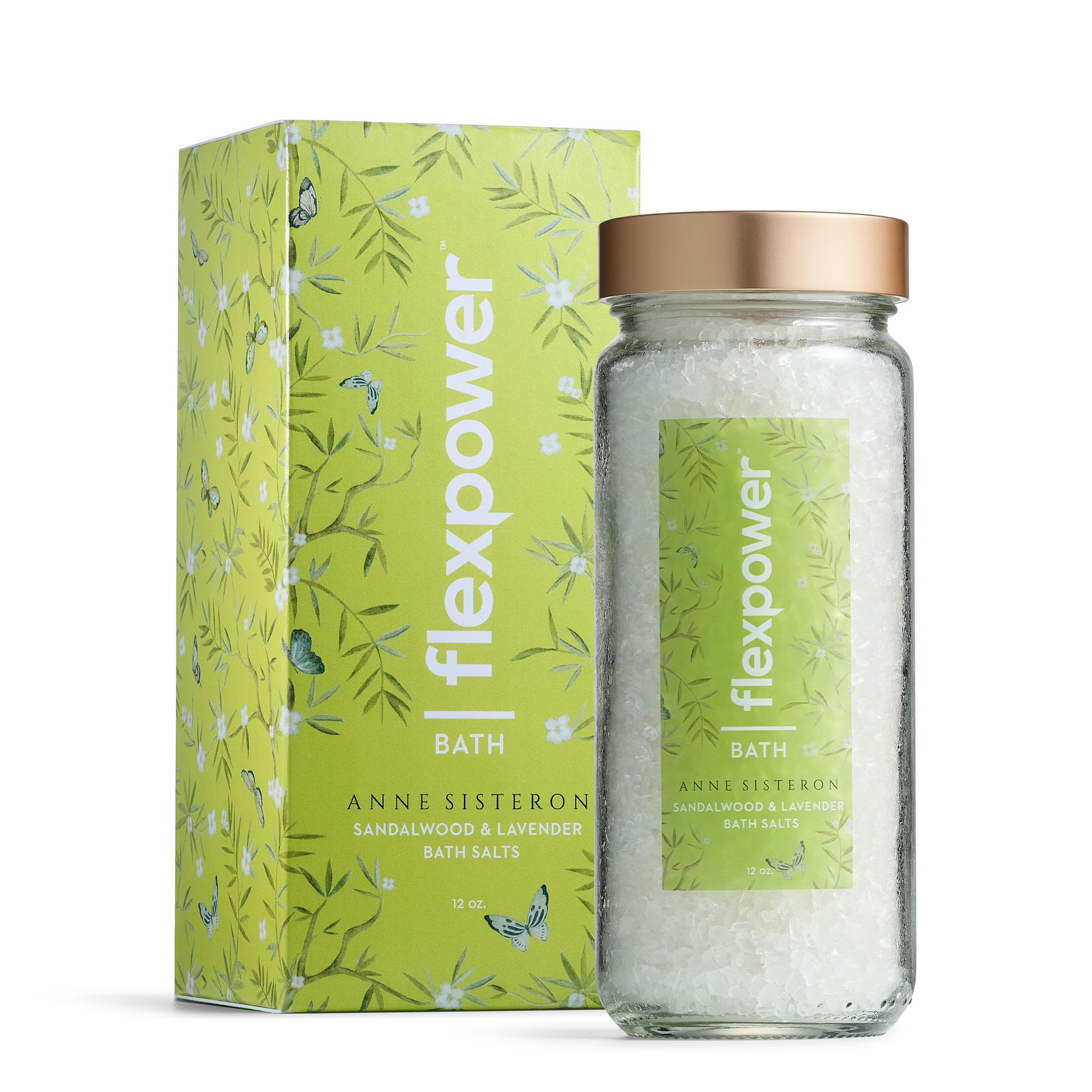 "When I first met Anne, I was already a huge fan of hers," says Flexpower CEO Heather  Vandenberghe. "We immediately connected on so many levels – as working mothers, as two  professional women trying to run businesses that do good and bring joy to people. The idea for a collaboration as a way to support each other and other women in business just seemed like a perfect fit." 
"Heather is a powerhouse," says Sisteron. "When I first met her, we just clicked. I then tried  some of the Flexpower Bath Salts and it was life-changing. My whole body responded."  
With the spark of collaboration ignited, Sisteron and Vandenberghe immediately began  working on the right scent to serve as the Bath's signature. Sisteron already had a favorite  combination in mind. "I'm drawn to more  unisex scents, and sandalwood can be very  masculine typically," she explains. "But throw in the lavender and it's just beautiful. It's  something everyone can enjoy."  
In addition to the unique scent, the limited edition Bath Salts will have unique, reusable  packaging featuring signature design elements inspired by Anne Sisteron boutiques.  
To reinforce both Anne's and Heather's  commitment to using this collaboration as a  means of reinforcing their own strongly-held  beliefs in giving back, a percentage of the  Bath Salt sales will benefit the Downtown Women's Center in Los Angeles. "This is really what our partnership is all about," says  Vandenberghe. "Supporting other women in business and in life, but also supporting the communities we live in."  
"We both create products we believe in,"  adds Sisteron: "It's like two forces of nature  coming together to do good."