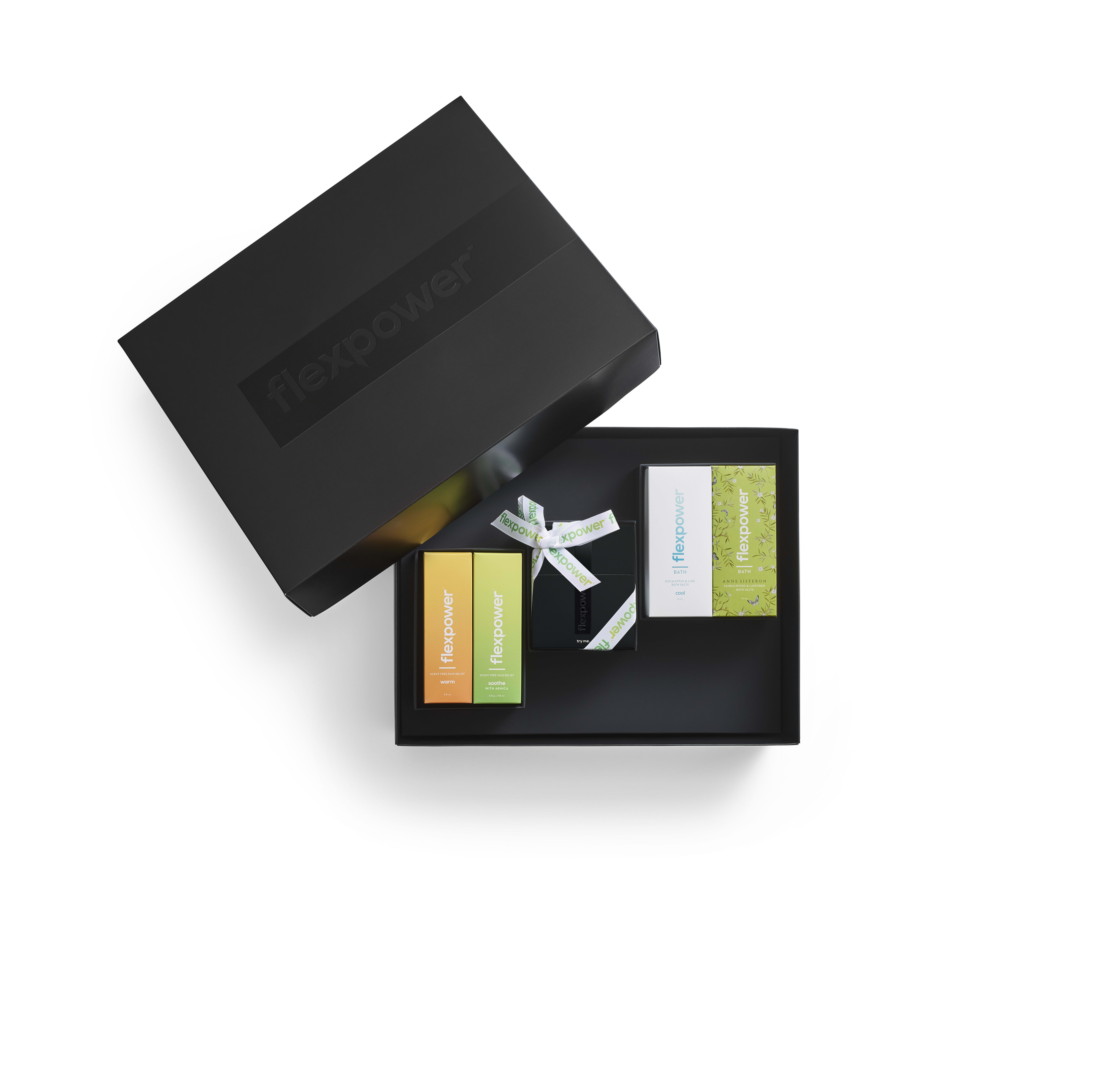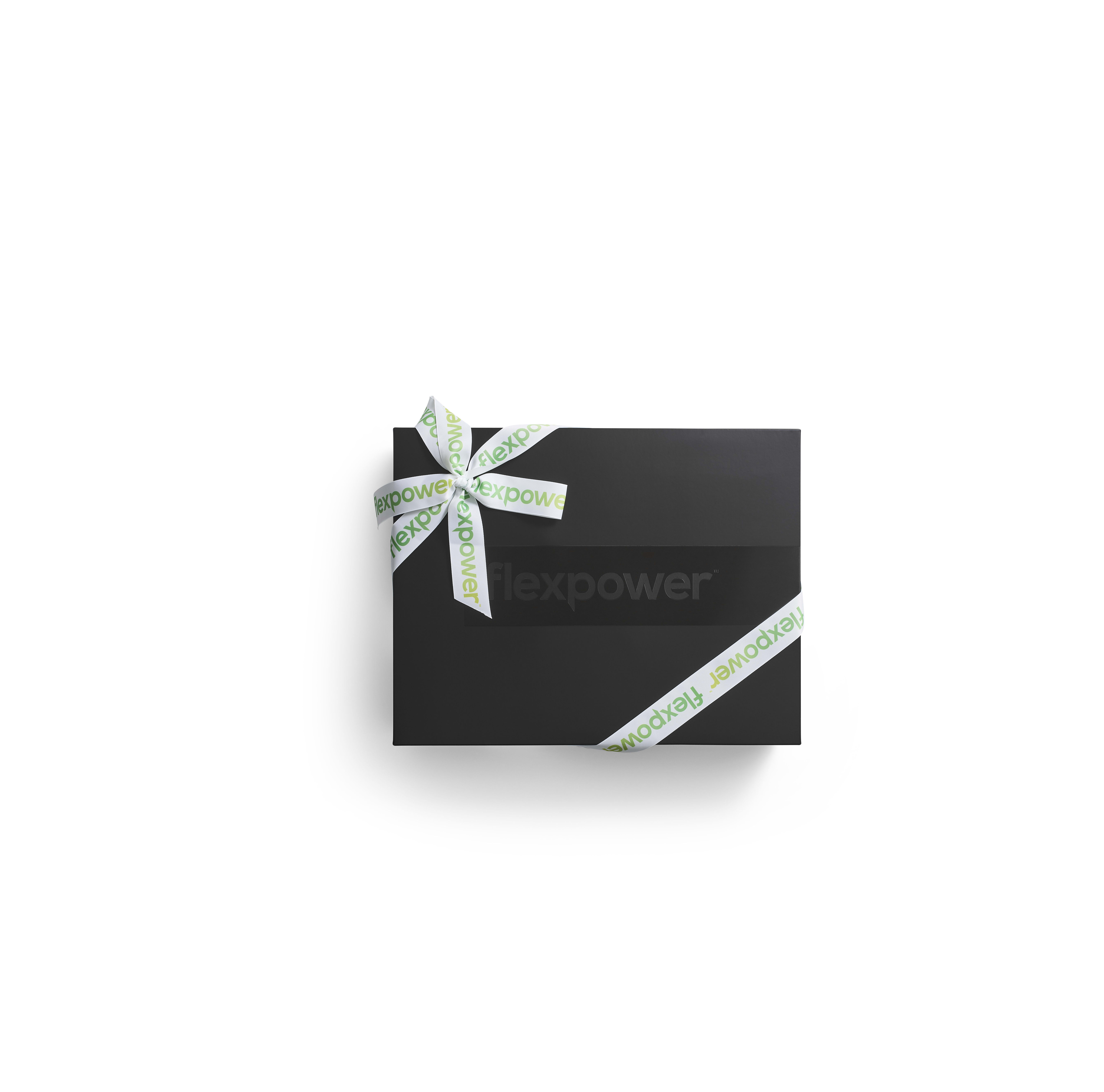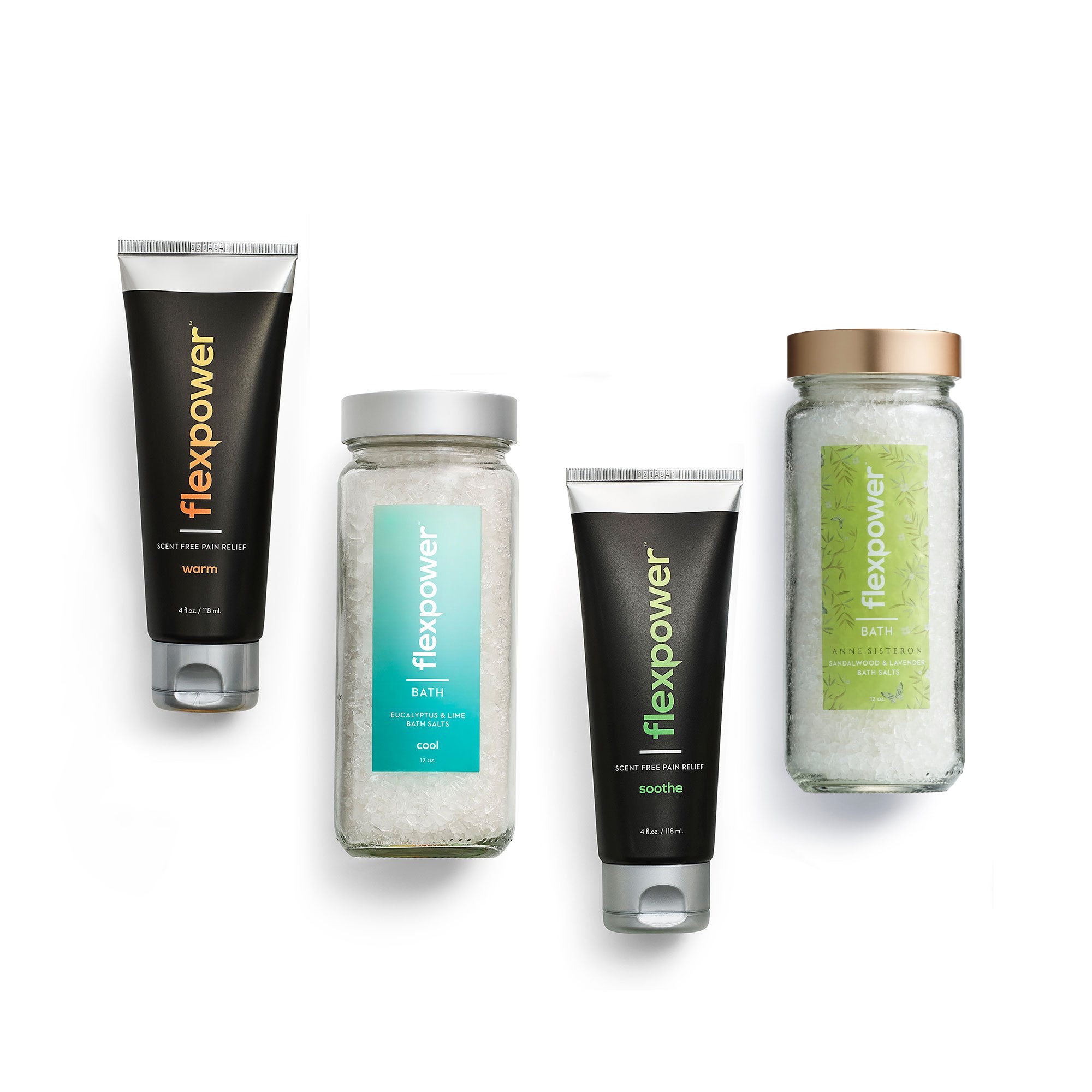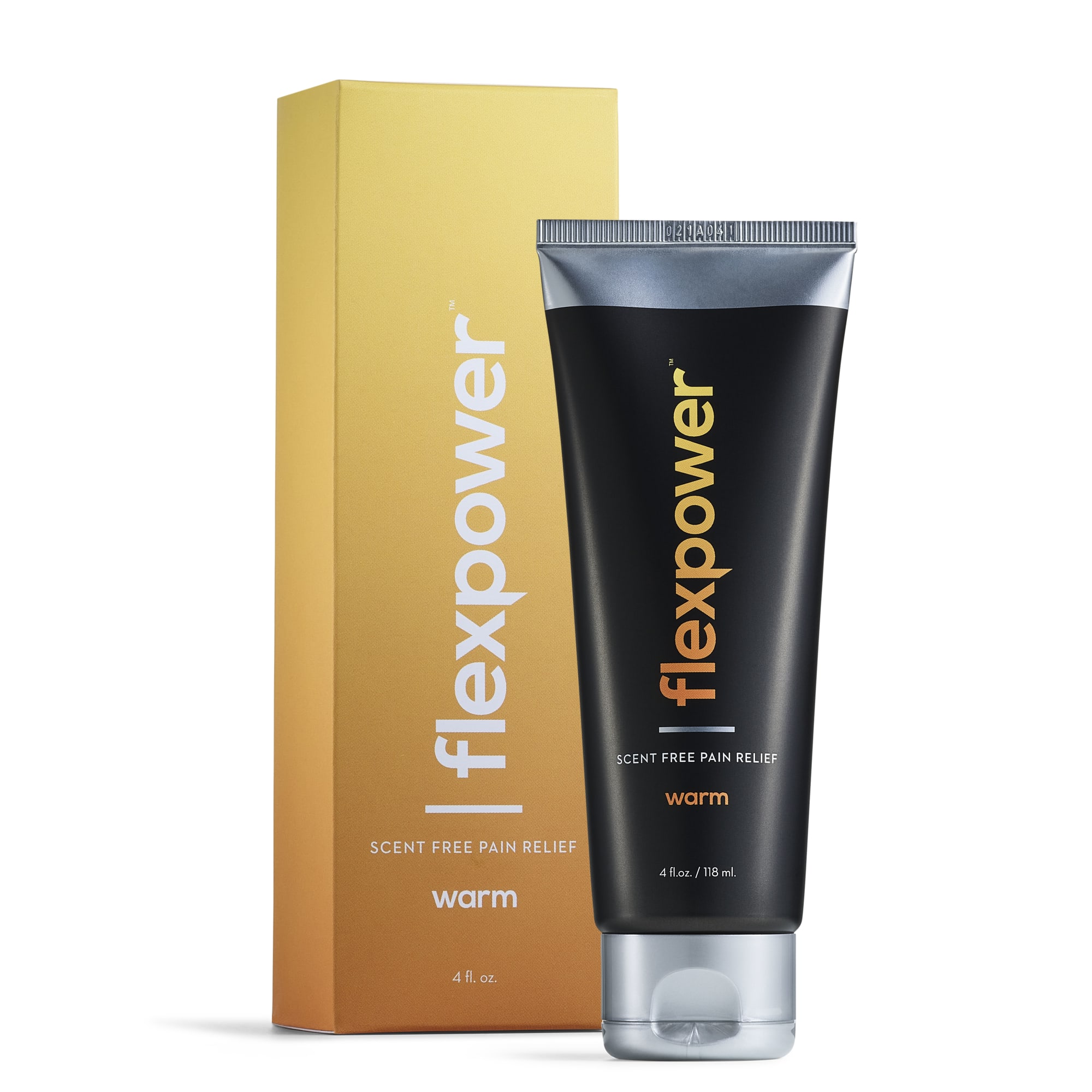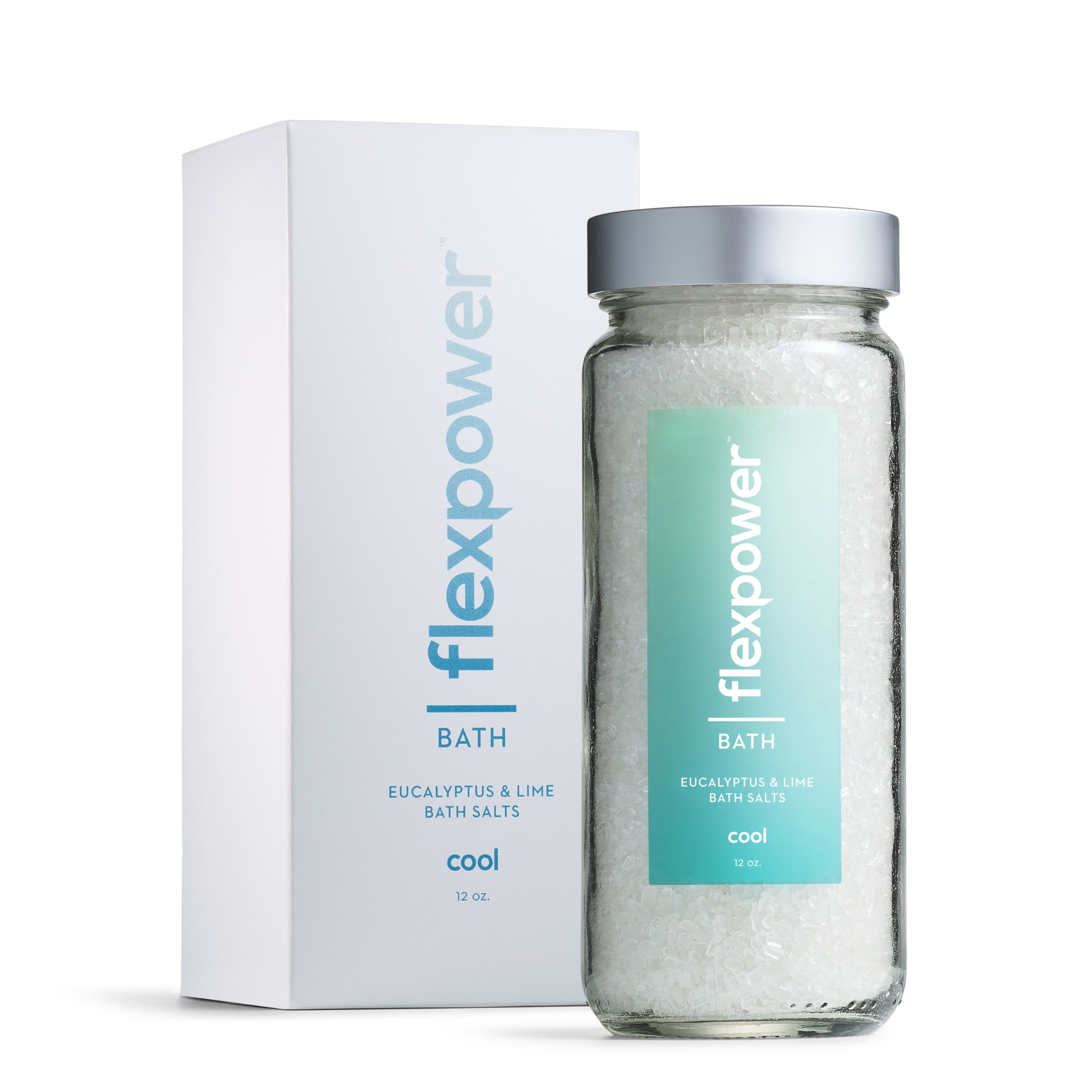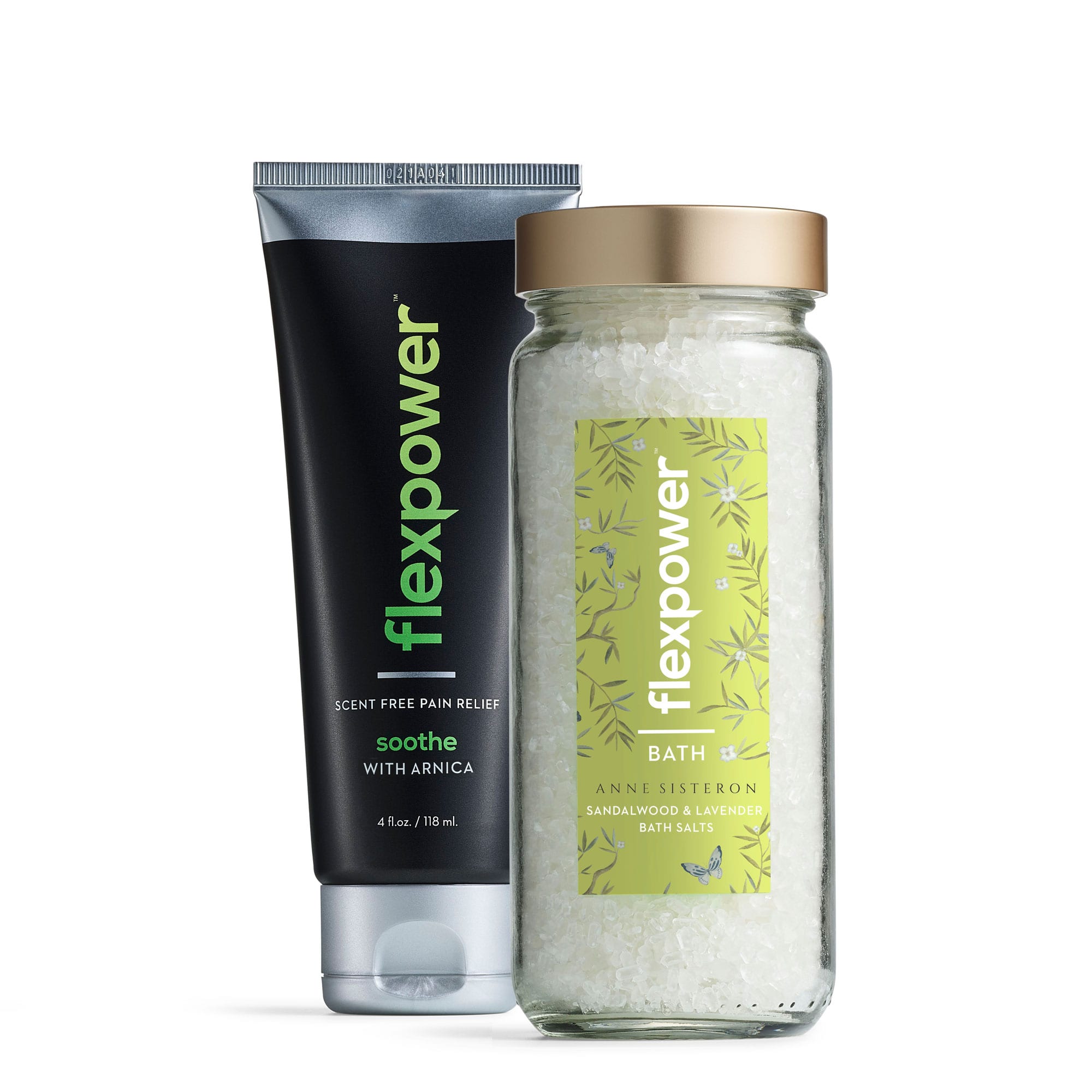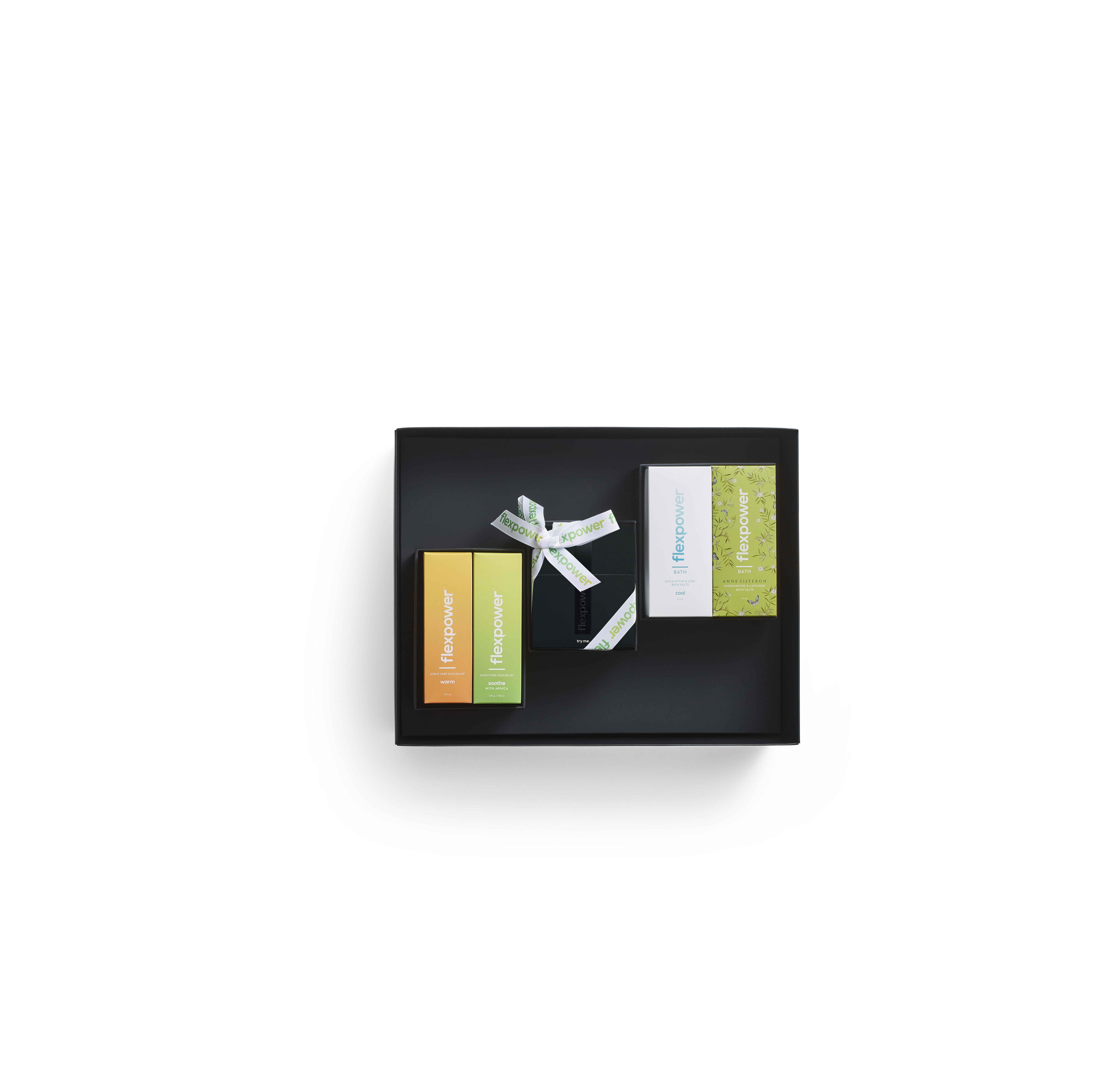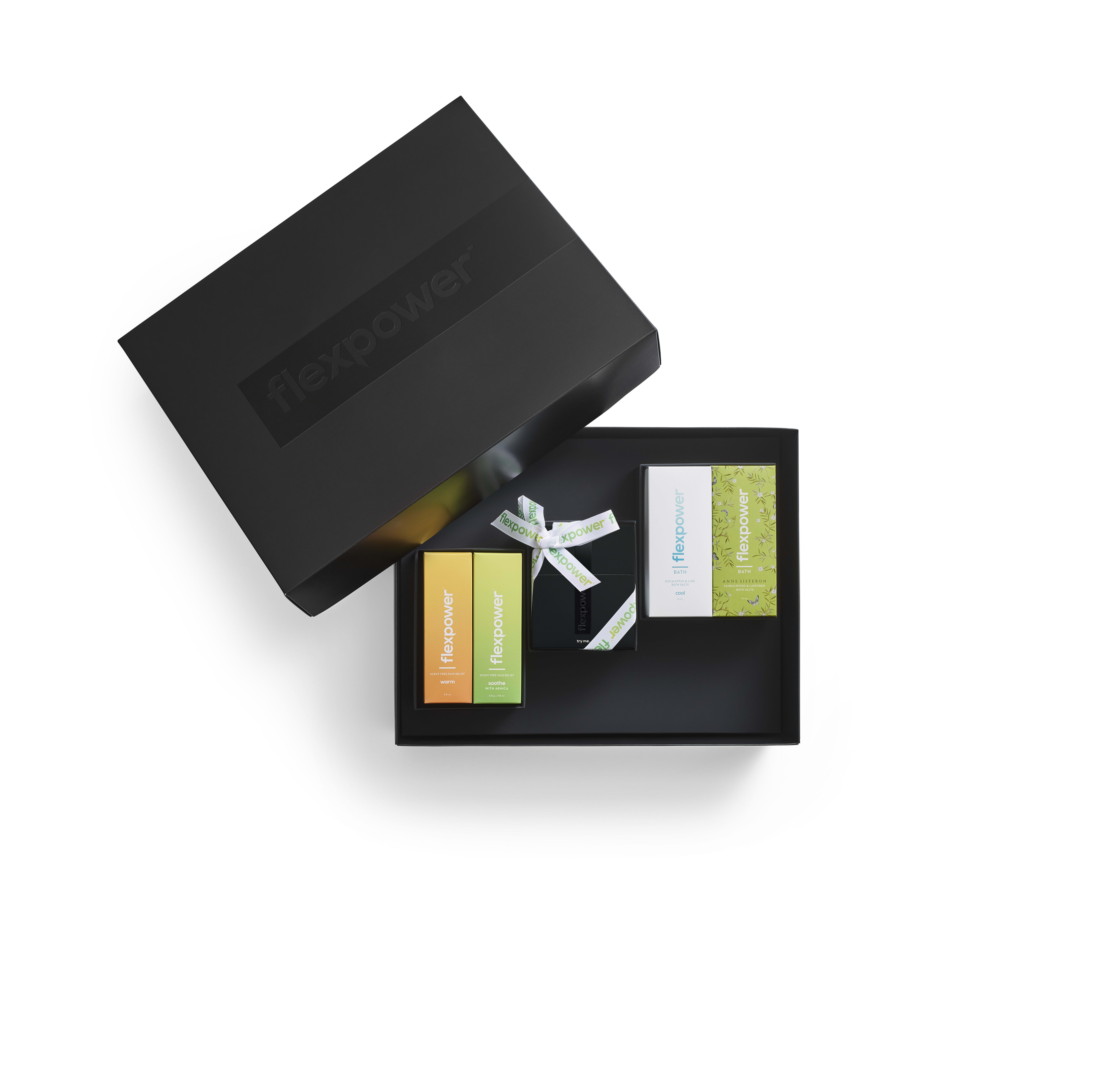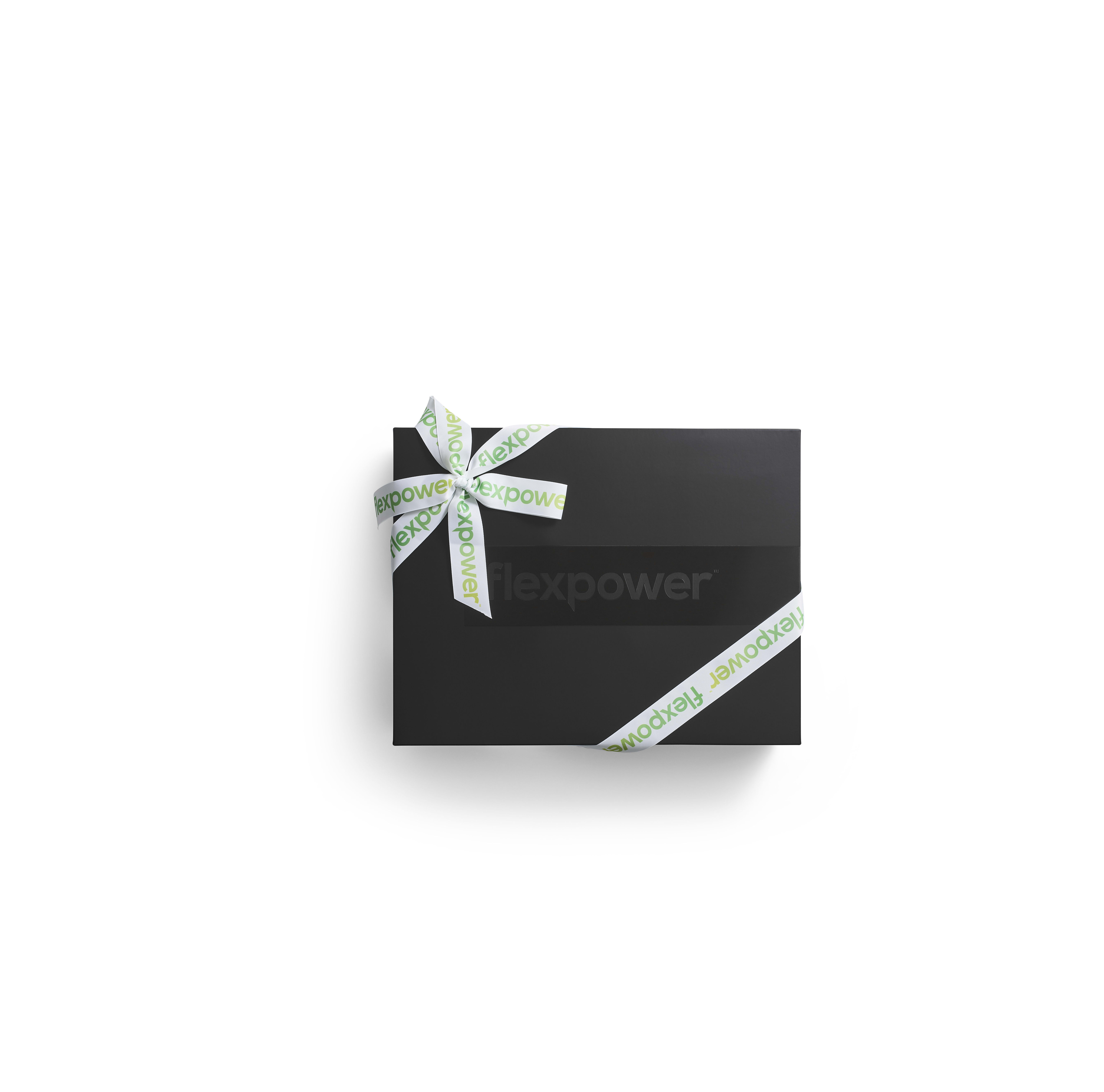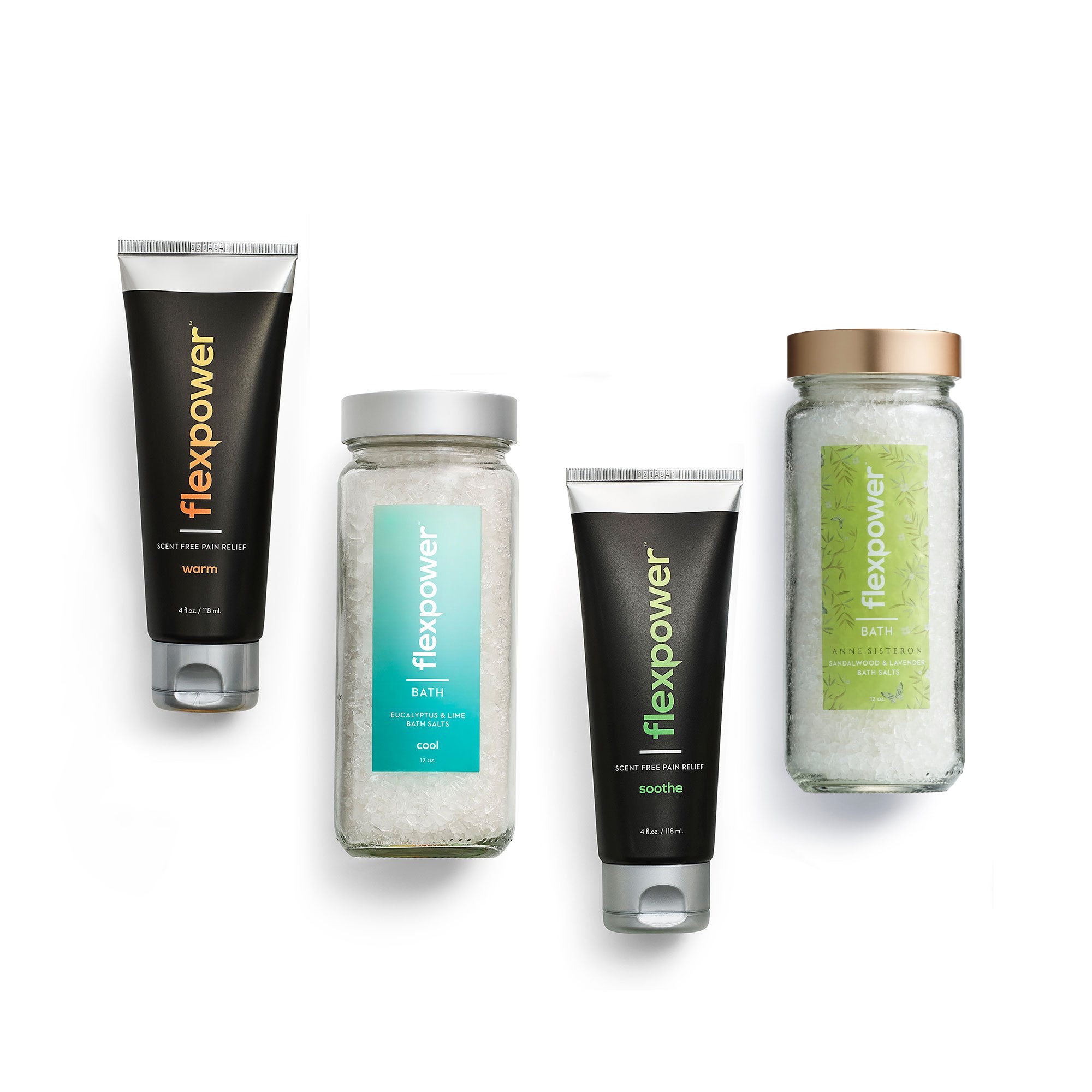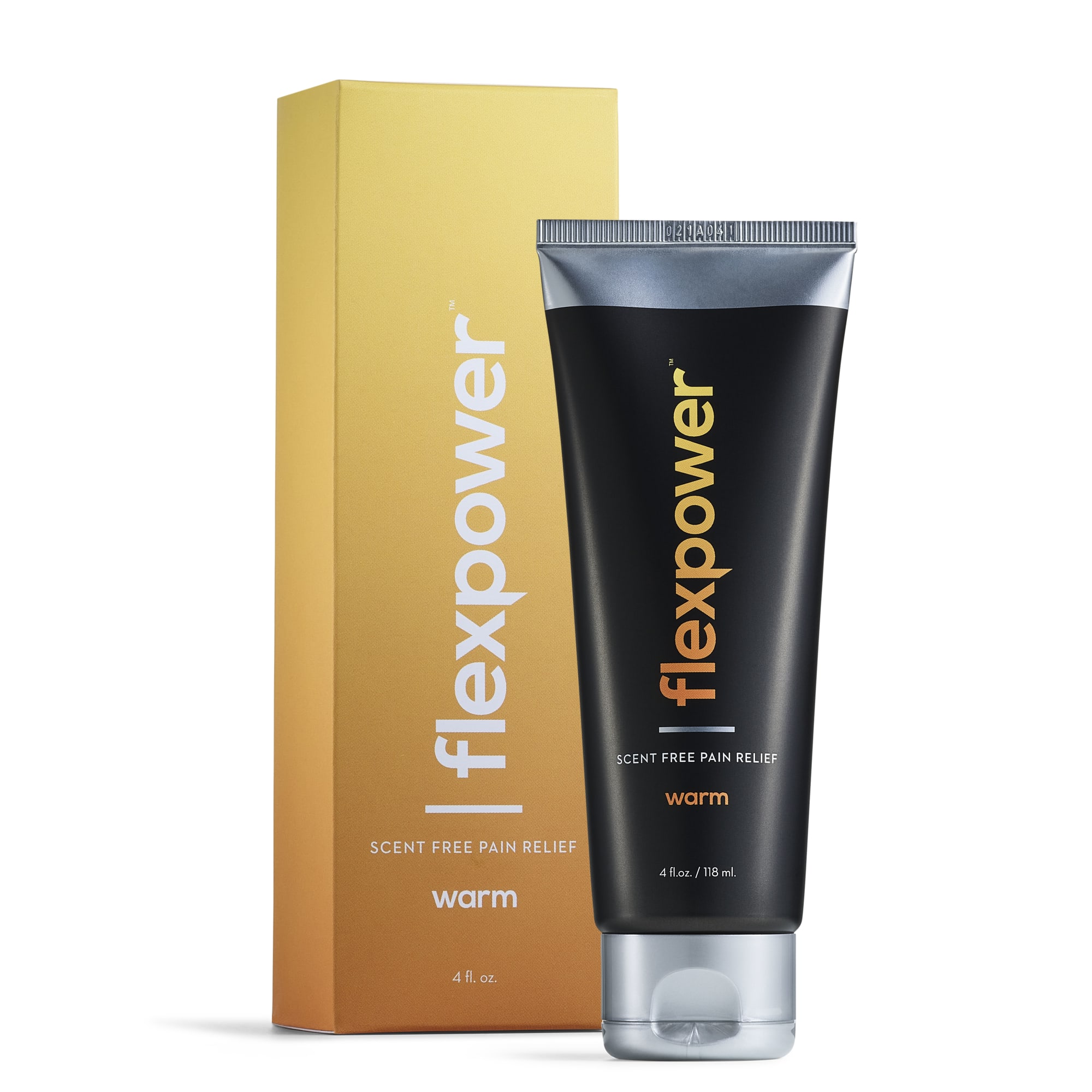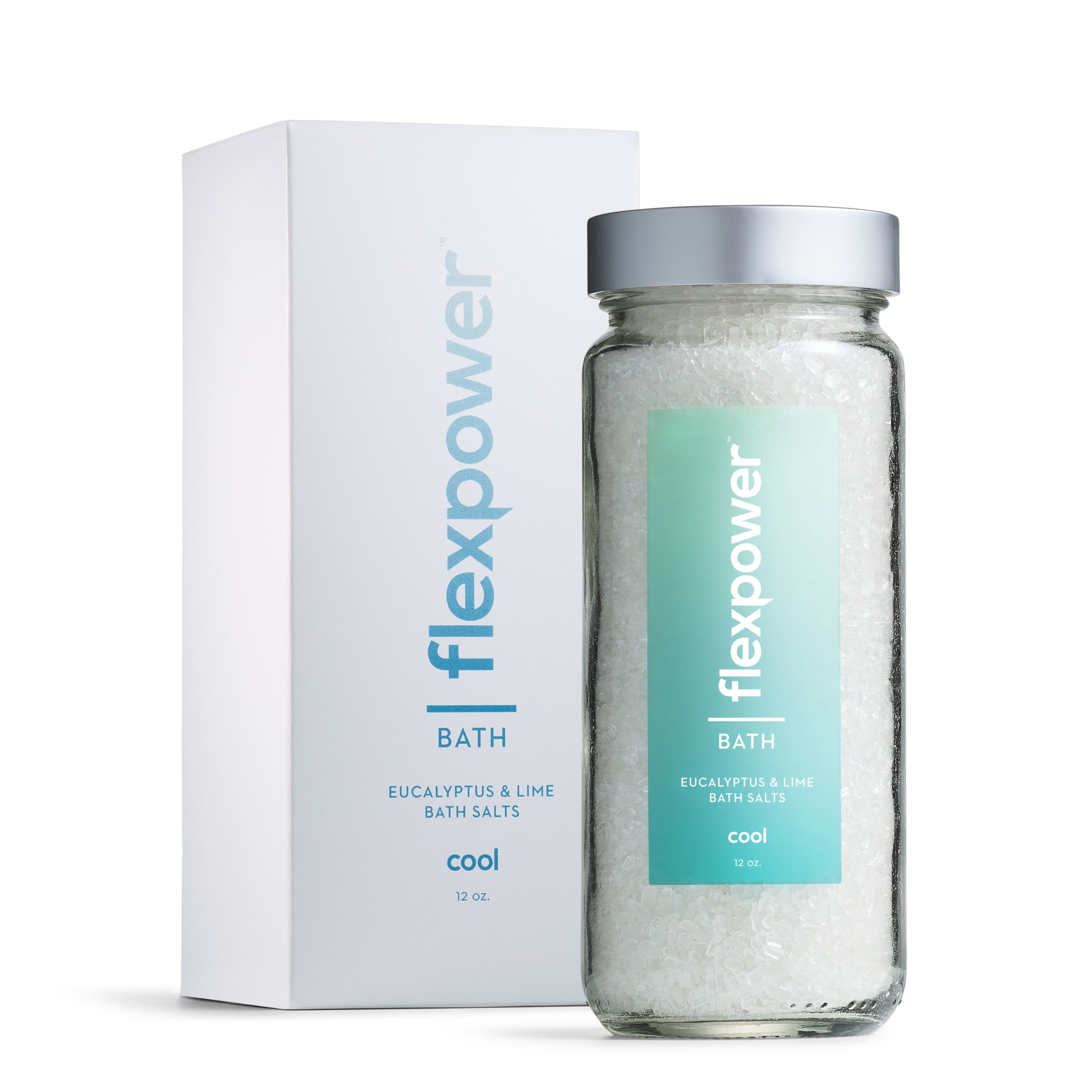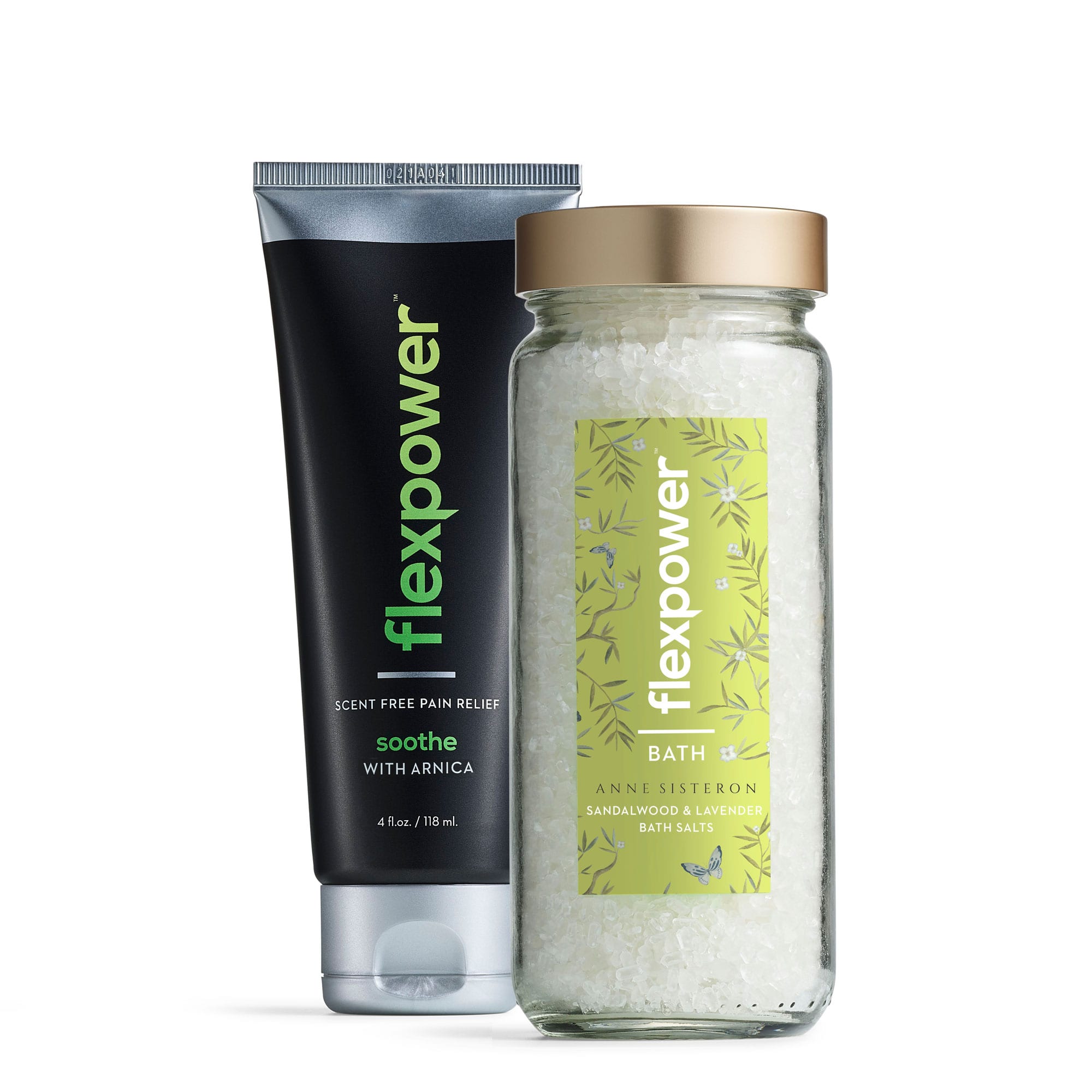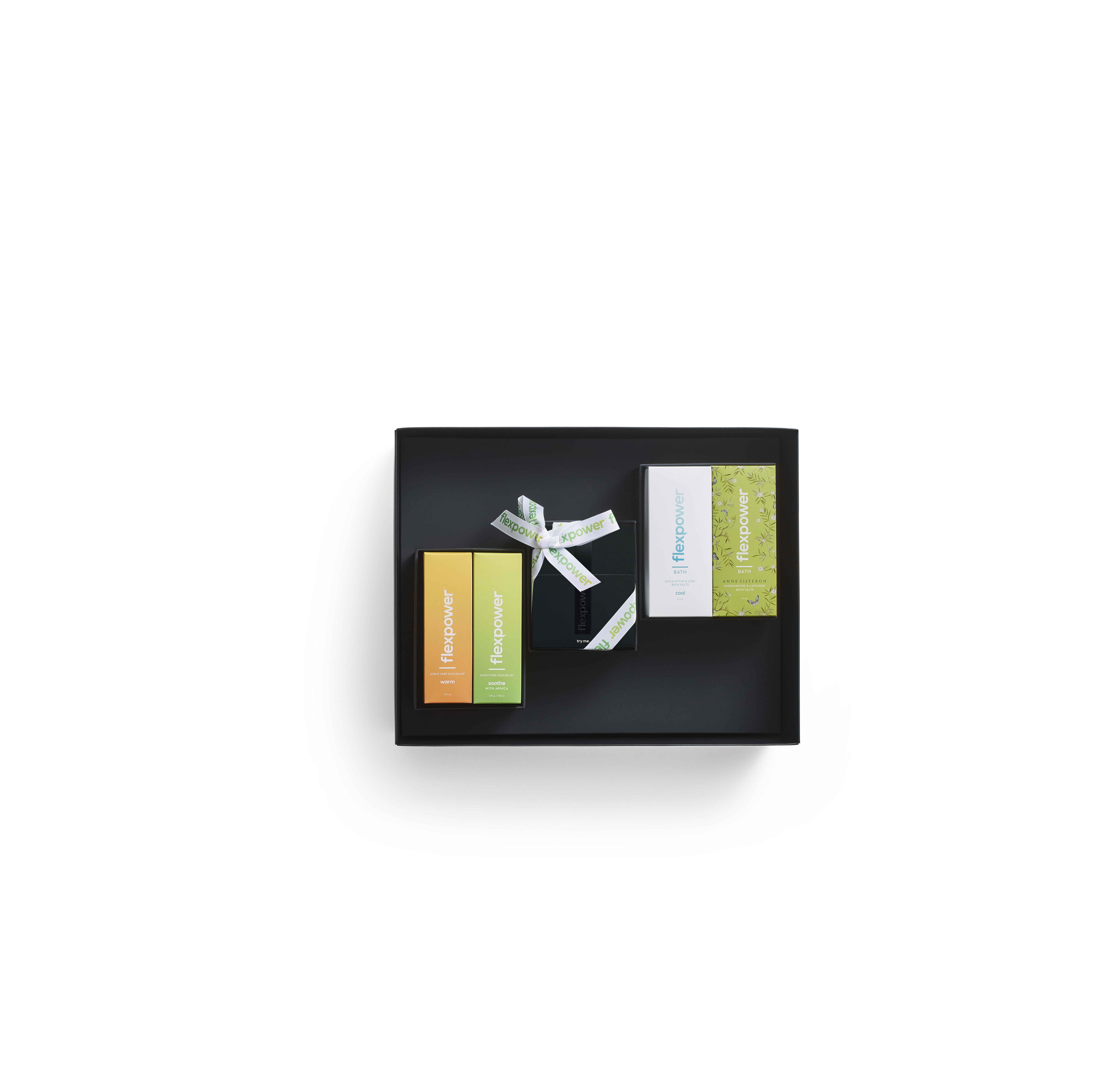 The Ultimate Feel Good Kit
Description
The Ultimate Flexpower Feel Good Kit is the opportunity to experience our scent-free pain relief lotions and our restorative bath salts in personalized combinations. Our products are designed to work with and complement one another. We encourage everyone to find their own unique mix to help them feel their best every single day. Makes for the ultimate self-care gift!
Sustainably-made with recyclable packaging
Plant-based and cruelty-free
Arrives pre-wrapped in our signature Flexpower gift box
1x Flexpower Warm Lotion
1x Flexpower Soothe Lotion
1x Flexpower Cool Bath Salt
1x Flexpower x Anne Sisteron Bath Salt
1x Sampler Kit with 12 Warm Lotion Singles and 12 Soothe Lotion Singles
Warm
Trolamine Salicylate, Vitamin E, Lecithin, MSM, Acetyl Glucosamine, Butylene Glycol, Caprylyl Glycol, Caprylic/Capric Triglyceride, Ceteareth-20, Cetearyl Alcohol, Cyclopentasiloxane, Dimethicone, Disodium EDTA, Ethylhexylglycerin, Fragrance, Glyceryl Stearate, Isopropyl Palmitate, PEG-100 Stearate, Phenoxyethanol, Potassium Sorbate, Propylene Glycol, Vanillyl Butyl Ether, Water, Xanthan Gum
Anne Sisteron
Arnica, Epsom Salt, Sea Salt, Lavender, Sandalwood, Sunflower Seed Oil
Soothe
Arnica Montana, Aloe, Echinacea, Eucalyptus, Rosemary, Tumeric, Boswellia Serrata, Calendula, Camphor, Glucosamine, MSM, Cetearyl Alcohol, Cetearyl Olivate, Lecithin, Menthol, Olive Oil, Sorbitan Olivate, Squalene, Stearic Acid, Vanillyl Butyl Ether
View All Soothe Lotion Ingredients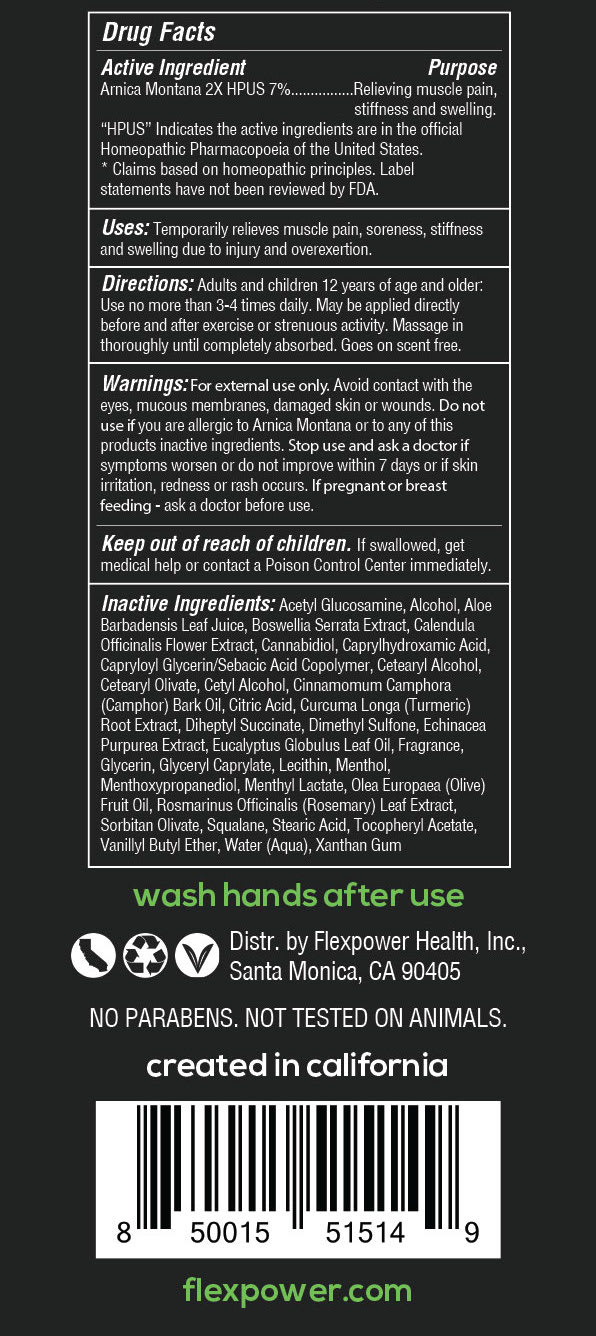 Cool
Arnica, sea salt, Vitamin E, Eucalyptus, Epsom salt, lime, sunflower seed oil
Warm Lotion
Warm pairs Trolamine Salicylate, an FDA-cleared OTC topical analgesic, with glucosamine and skin-nourishing moisturizers like Vitamin E. The result is scent-free, fast-acting, skin-nourishing pain relief.
Squeeze a quarter-sized amount into your palm for small areas (knees, elbows) and slightly more for larger areas (backs, thighs). Rub in well until absorbed and wash your hands thoroughly after application.
Warm's heating sensation builds gradually, so allow the first application to rest 4-5 minutes before applying more. The application area may also reheat with additional activity or in heated environments such as a shower or sauna, so we recommend applying no more than 3-4 times daily as needed.
Soothe Lotion
Soothe is made from gentle, natural ingredients, so apply freely to loosen up joints and muscles as part of your daily regime.  Apply or reapply as needed during the day to treat stiffness or mild soreness. A quarter-sized amount in your palm will cover joint areas and small muscles (we suggest using more for larger areas). Rub in well until absorbed, and wash your hands thoroughly after application.
Warm Lotion
Our FDA-approved anti-inflammatory formula is used by pro athletes around the world and provides scent-free, fast-acting, therapeutic muscle and joint pain relief. Use:
Before exercise or activity to warm-up muscles and joints

After exercise to relieve soreness and muscle pain as needed

To ease muscle pulls or other soft tissue pain/injuries

To ease arthritis pain

To enhance ultrasound and massage pain therapy
Soothe Lotion
Our botanical-infused lotion nourishes skin and unlocks the calming, anti-inflammatory power of Arnica to provide soothing relief.* Use:
Pre and post activity

After sun exposure

On feet prior to a long day or night out — and for relief when you get home

Prior to a night out in heels (apply then allow to dry 20 minutes before putting on shoes)

To cool and ease the appearance of swelling & redness of insect bites, bruises, stings, burns

For massage

Pre and post injectable treatments (check with your doctor or technician)

Tattoo and tattoo removal care (check with your technician)

On neck, shoulders, back, legs and feet when sitting at a desk all day
*Arnica has been used for centuries as a topical homeopathic remedy. Claims based on homeopathic principles (Homeopathic Pharmacopoeia of the U.S.). Statements have not been reviewed by the FDA. Products are not intended to diagnose, treat, cure or prevent any disease.
Our products are guaranteed and can be returned within 14 days of purchase for a full refund if you're not totally satisfied.